Sport News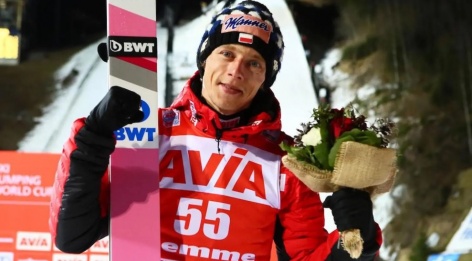 14 January 2019 года
Dawid Kubacki finally takes his first win
After two second places so far in the year 2019, Dawid Kubacki could take is very first World Cup win in the second competition of the weekend in Val di Fiemme (ITA).
A week before the home event in Zakopane, Kubacki, who is representing the club TS Wisla Zakopane, showed an impressive performance. The 28-year-old laid the foundation for his success already in the first round with 128.5 m. In the final, he was the last one to jump, but he remained cool and did even better in the second round with 131.5 m. Dawid Kubacki took a clear win with his total of 271.1 points.
"It was a pretty good day for me. I took my first win in the World Cup today, that's something I have been working for for a long time. I'm really satisfied, that all this work is paying off. Before the final jump I knew I could win, so I was just focusing on what I have to do. When you are up there you don't really know how the others were jumping, after the take-off you see the green line and if you made it or not", explained the happy winner.
Austria's Stefan Kraft again confirmed his consistently strong shape right now and finished second with 124.5 m and 122.5 m and 257.2 points. Kraft was on the podium in three of the last four competitions, he only closely missed the podium in fourth on Saturday in Val di Fiemme. "I'm very satisfied, these two days here were perfect for me. A podium was the big goal and I achieved that. Dawid was simply unbeatable today. I can easily wait for my first win this season until the World Championships, but my jumps are getting better and better and I'm having a lot of fun. I will remain patient, podium finishes are also very nice", said the Austrian.
Kubacki's teammate Kamil Stoch, who won a World Cup on this facility in 2012 and WSC-Gold in 2013, also seems to enjoy jumping in Italy. With 120 m and 128.5 m and a total of 256.9 points, the double Olympic champion repeated his third place from yesterday. "I'm satisfied with the results this weekend because recently I was having some technical problems and now I was trying to figure out what's better for me, especially when it comes to the inrun position. And especially today I did a really good job and so I can be satisfied with the performance and the result", said Kamil Stoch, who is, of course, already looking forward to the World Cup next week. "In Zakopane, I will give my all again and try my best. I hope that this atmosphere and the energy there will help us.
Stefan Kraft, Dawid Kubacki, Kamil Stoch
Best Norwegian in today's competition was Robert Johansson on the very good fourth place. Behind him, 22-year-old German David Siegel came in on a career-best fifth place. Markus Eisenbichler, who missed Saturday's competition due to a disqualification in the qualification on Friday, was also struggling a bit in the first round and was only 17th. With 133 m in the final round, the second-placed athlete of the 4-Hills-Tournament could move up to sixth.
After six wins in a row, the success streak of Ryoyu Kobayashi ended today. The Japanese was second after the first round and in striking distance to Kubacki, but in the final he could not keep up with the best and finished only seventh. With this result, Ryoyu Kobayashi missed the chance to become the first ski jumper in history to win seven World Cups in a row.
Andreas Stjernen of Norway moved up from 19th to eighth with a strong performance in the second round. Four-time Olympic champion Simon Ammann is getting better and better. The Swiss posted the longest jump of the day with 135 m in the second round and achieved his best result this winter with the ninth place. Kilian Peier, who was eleventh right behind Poland's Piotr Zyla, completed the very good team result for Switzerland.
In the overall World Cup, Ryoyu Kobayashi still has a clear lead with 1092 points. The Japanese is followed by three athletes from Poland, with Kamil Stoch (624 points), Piotr Zyla (591 points) and Dawid Kubacki (532 points).
With the great results in Val di Fiemme, the Polish team will now travel to their home World Cup in Zakopane with lots of self-confidence. In Poland, one team and one individual competition will be held next weekend.