Sport News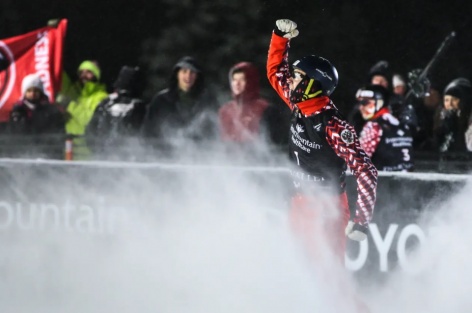 7 February 2019 года
Utah 2019 aerials golds for Ramanouskaya and Burov at Deer Valley
Deer Valley (USA) - Wednesday night at the Utah 2019 FIS Snowboard, Freestyle and Freeski World Championships saw the individual aerials competition take to the skies above the famed Deer Valley Resort, where Aliaksandra Ramanouskaya of Belarus won the ladies' competition and Russia's Maxim Burov became the youngest-ever aerials world champion in an evening of incredible jumping.
With cold temperatures and a light snow falling over Deer Valley's perfectly-prepared White Owl aerials venue, the best 12 ladies and men of the aerials world put on a superb display for the gathered Utah 2019 crowd.
In a new format for this season's world championships competition, a best-of-two-jumps semi-final established the top six ladies and men, who moved on to a tense winner-takes-all single-jump final.
When Ramanouskaya saw US favourite and reigning Sierra Nevada 2017 world champion Ashley Caldwell - the only other ladies' skier performing triple-flipping jumps in the final round - falter in her final attempt after making a mistake on her takeoff, the Belarusian knew that she would have only to cleanly put down her final jump to best the field and earn the first-ever world title for a Belarusian ladies' aerials athlete.
And she would do just that, jumping as the final ladies' skier of the night and executing what might have been the most precise jump of the day with her back lay, full, full to a score of 113.89 and claim a historic gold medal for the proud aerials nature of Belarus.
"I don't feel like this is real. I feel like I'm dreaming," the soft-spoken Ramanouskaya said just before the awards ceremony, "I still don't understand that I'm the winner of the competition. Before the final jump I wasn't thinking about podium places or anything, I was just thinking that I had to do my jump and do it like I do it in the training. Every girl who jumped today is such a good athlete and I'm very happy to compete with them."
The Utah 2019 ladies' aerials silver medal went to 20-year-old Liubov Nikitina of Russia, with her clean back full, double full earning her a score of 89.88. Third place and the bronze medal went to the legend Xu Mengtao of China, giving the 28-year-old an incredible sixth podium in six career World Cup starts, dating back to the Inawashiro 2009 world championships.
In the men's competition it was Maxim Burov taking a page from Ramanouskaya's book and using his slot as the final competitor of the evening to put down the best jump of the night when it mattered most. In effortlessly landing his back full, double full, full to earn a score of 130.00, Burov was able to lock down the first world championships gold medal for the Russian aerials team since 2003 while also becomming the youngest competitor, male or female, to ever win world championships aerials gold.
"This is the first time. I don't know how to explain it, but it's totally full," said the 20-year-old.
Second place and the silver medal went to Ukraine's Oleksandr Abramenko, who scored 126.24 for his final jump back double full, full, full to earn his first world championships podium in his seventh world champs start.
Meanwhile, the evening's bronze medal went to Noe Roth of Switzerland, in a thrilling breakout performance for the 18-year-old reigning junior world champion who has but eight World Cup starts to his name.
QUICK LINKS:
Source: fis-ski.com