Sport News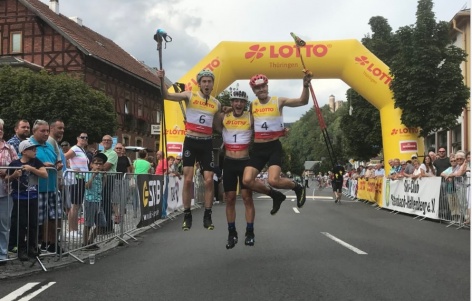 3 September 2019 года
Antoine Gerard claims maiden win in Oberhof
France's Antoine Gerard set his first-ever victory in the Summer Grand Prix in the second of two Individual Gundersen events in Oberhof. The Frenchman celebrated a start - finish victory ahead of Finland's Ilkka Herola (+3.9). Szczepan Kupczak repeated his podium performance from Klingenthal and took another third place.
Gerard had already been the best jumper in the competition round and conquered a narrow 3-second head start on Germany's Julian Schmid, who celebrated his 20th birthday today. 131 metres and 125.4 points had Gerard top the result and form a leading trio with Schmid and Lukas Greiderer, who had jumped to 130 metres and started his race nine seconds after Gerard.
Finland's Ilkka Herola, who made a name for himself as a fast skier last season, had a good jump on the hill and minimised his delay to 30 seconds at the start line. Franz-Josef Rehrl and Akito Watabe continued the fight for the Summer Grand Prix on equal footing, overall from positions seven and eight, +0:37 and +0:38 after Gerard. Eero Hirvonen and Fabian Rießle formed another fast duo with starting times of +0:56 and +0:57 seconds.
The race had Gerard leave the start in a group with Julian Schmid, but soon it was Lukas Greiderer who had closed the gap while Schmid fell back and finally finished sixth. After the 6.8 km point, Gerard set his attack and managed to shake off Greiderer again, while pursuers around fast skier Ilkka Herola caught up ground. Szczepan Kupczak and Laurent Muhlethaler profited of the strong pace and were able to close the gap to Greiderer as well.
On the last lap, the express train with Herola, Kupczak and Muhlethaler continued to the finish while Greiderer wasn't able to fully match the pace and finished fifth. Of the three, Herola had the strongest finish to claim second, while Kupczak won a sprint agains Muhlethaler for the remaining podium position. As Rehrl finished tenth and Watabe 14th, the fight for the men's SGP overall did not see any drastic changes today.
Final Results
Ski Jumping results
Overall Standings
Source: fis-ski.com