Sport News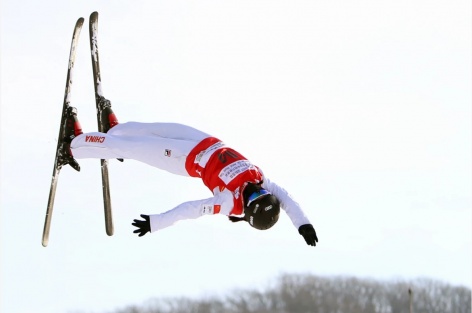 23 December 2019 года
Xu and Qi take back-to-back wins, while Russia triumphs in team event
The second day of competition at the aerials World Cup was staged at Shimao Lotus Mountain on Sunday, concluding an action-packed weekend with first back-to-back competitions of the 2019/2020 FIS Freestyle Ski Aerials World Cup season. Russia with Liubov Nikitina, Pavel Krotov and Maxim Burov in squad took victory in the team event, while the Chinese duo of Xu Mengtao and Qi Guangpu came again on top in the one-round format individual event.
With Sunday's team event acting as the lone aerials team competition of the season, where the individual phase of the competition decided the results for World Cup points, once again the world's top athletes showed up ready to strut their stuff and get the crowd warmed up in what was another sunny day in Jilin province.
The individual competition kicked off early in the morning, beginning a long but exciting day of the double-header World Cup event and everyone's attention turned to see how the athletes would strive not just to improve their team's standing, but also to battle for their place on the World Cup leaderboard.
In the women's competition Xu Mengtao reached for her second straight victory this weekend, coming in hot and stomping her back Lay-Full-Full for a top score of the day of 110.77 points. It was the 25th World Cup win for the 29-year-old Xu, which puts her tied in first place along Jacqui Copper (AUS) for most victories in women's aerials World Cup.
Second place went to Aliaksandra Ramanouskaya (BLR) for her second runner-up position on the weekend. Ramanouskaya received a score of 97.07 points for her back Lay-Full-Full.
Kong Fenyu of China rounded out the women's podium in third with a score of 92.35 points for her back double Full-Full.
Switching over to the men's side of things also Qi Guangpu went for his back-to-back victory on Sunday while impressing with his back double Full-Full-Full, for which he received a high score of 128.05 points.
Maxim Burov finished the competition in second place with 126.70 points also for a back double Full-Full-Full, while Jia Zongyang completed the men's podium in third place with 123.90 points for his back Full double Full-Full, also taking his second top-3 finish this weekend.

In the overall aerials World Cup, Xu Mengtao and Qi Guangpu are leading the respective women's and men's rankings with 200 points after two victories on home turf in China.
Straight after an exciting individual competition, eight teams each consisting of three athletes jousted together in the season's only aerials team event. And after the first round of jumps the field was narrowed down to only four teams, with 12 jumps remaining to decide the final ranking on the day.
In the end it was Team Russia, which ended up on top of the podium as Liubov Nikitina, Pavel Krotov and Maxim Burov managed to outscore strong competition from both of home nation's teams. Russia came with a combined score of 316.66 following strong showings from Krotov and Burov in the final phase of the competition.
Team China 2 consisting of Kong Fanyu, Yang Longxiao and Sun Jiaxu finished in second place with 312.12 points, while Team China 1 with Xu Mengtao, Qi Guangpu and Jia Zongyang in squad came in third with 286.86.


The next FIS Freestyle Ski Aerials World Cup competition are set to go down after the holidays break in Moscow, on January 25, 2020.

QUICK LINKS
Source: fis-ski.com